We are pleased to report that we won a court hearing on Polly's behalf. Polly has been awarded a 'welfare deputy' to help ensure her values and beliefs are respected.
Throughout her working life as an advocate for mental health service users, Polly campaigned for person-centred care that recognised each person's individual values and beliefs and supported their right to make their own decisions about their lives. She was particularly passionate about the importance of respecting people's choices at times when they are unable to communicate those choices themselves – and, as part of her job, worked on a leaflet called "Getting Your Voice Heard".
Since Polly's accident we have been impressed with the skill and care put into her treatment. However, we have been dismayed that some key decisions were made without taking into account her values and beliefs. We also discovered that, contrary to common belief, 'next of kin' actually can neither consent to, nor refuse, treatment on their loved one's behalf. This meant that her medical team were sometimes making decisions about Polly's 'best interests' without considering her as an individual.
We believe Polly would have found this situation utterly unacceptable. We know that, unable to speak for herself, Polly would want someone who knows and loves her to be her advocate. Her partner, sisters and parents discussed the best way forward and together petitioned the Court of Protection to appoint Jenny (Polly's younger sister) as Polly's welfare deputy.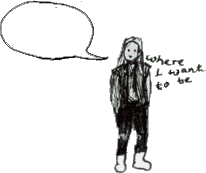 Applying for welfare deputyship is a lengthy and difficult process, and 80% of applications fail. So we are delighted to report that: We won our case! This means that Jenny now has a legal right and obligation to represent Polly's views. It will help us all to advocate more effectively on Polly's behalf, register our concerns and try to create change.
Our experience leads us to urge everyone to think, now, about how to protect themselves and their loved ones should they lose the ability to make decisions for themselves. This is a cause about which Polly felt very passionate, and we would like to honour her by ensuring that other people take up this challenge.